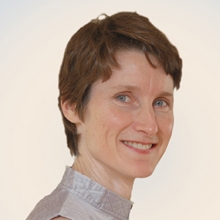 Julie Gauthier is visiting the Department of Biological Sciences during the 2009-2010 school year. Dr. Gauthier's research focuses on invertebrate immunity, molecular aspects of oyster host/parasite relationships. Current research focuses on in vitro studies between cultured parasites and internal defense components of oysters and refractory bivalve hosts. Her goal is to identify novel innate defenses operative in marine invertebrates and understand how environmental factors control parasite virulence.
Recent Publications
Gauthier, J.D., M.K. Jones, P.T. Thiaville, J.L. Joseph, R.A. Swain, C.J. Krediet, P.A. Gulig, M.A. Teplitski and A.C. Wright. 2010. Role of GacA in Vibrio vulnificus virulence. Microbiology 156: 3722-3733.
Gauthier, J.D., C.R. Miller and A.E. Wilbur. 2006. TaqMan® MGB real-time PCR approach to quantification of Perkinsus marinus and Perkinsus spp. in oysters. Journal of Shellfish Research 25: 619-624.
Gauthier, J.D., J.A. Jenkins and J.F. LaPeyre. 2003. Flow cytometric analysis of lectin binding to in vitro cultured Perkinsus marinus surface carbohydrates. Journal of Parasitology 90: 446-454.
Ahmed, H., E.J. Schott, J.D. Gauthier and G.R. Vasta. 2003. Superoxide dismutases from the oyster parasite Perkinsus marinus: Purification, biochemical characterization, and development of a plate microassay for activity. Analytical Biochemistry 318: 132-141.
Wright, A.C., H. Ahmed, J.D. Gauthier, A.M. Silva and G.R. Vasta. 2002. cDNA cloning and characterization of two iron superoxide dismutases from the oyster parasite Perkinsus marinus. Molecular and Biochemical Parasitology 123: 73-77.
Degrees
Ph.D., University of Maryland, 1998
Classes Taught
Cells & Heredity
Biology of Organisms
Cultural Biology for non-majors
Immunology
Microbiology
Areas of Expertise
Marine Biotechnology, Microbiology, Parasitology, Immunology